Lasers
Laser rejuvenation is within the top requested services in the aesthetic space to address a wide variety of concerns such as age spots, texture, wrinkle reduction, hair removal, skin tightening, and body contouring.
Over the last decade, laser technologys have had major advances. With aesthetic industry trends, consumers are wanting to have the results but less down-time or recovery time. Because of this demand, the aesthetic industry has shifted adapted to this trend which is resulting in faster treatments, better results, and a quicker recovery time.
In addition, laser rejuvenation has also become safer which can minimize adverse unwanted effects such as scarring, hyperpigmentation, and hypopigmentation to name a few. There are many great laser modalities in aesthetics, but it isn't a one-size fits all program. Your provider can let you know which treatment would be best for you based off of your desired outcome.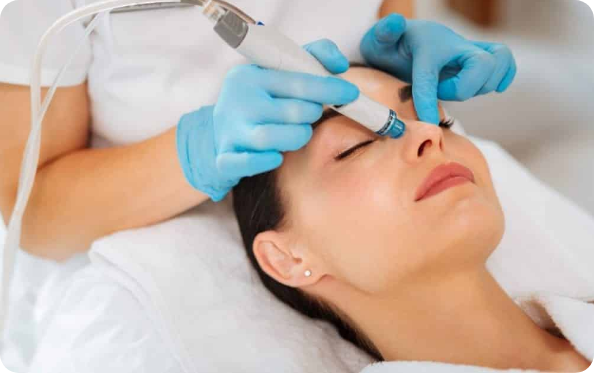 Statistics
Radio Frequency Microneedling is one of the latest and minimally invasive aesthetic trends for 2023. The market for North America has an estimated value of over 42 million in 2021 with a projected value of over 108 million dollars by 2029.
Anti Aging Lasers
Anti-Aging lasers work by emitting a specific wavelength of light that is absorbed by the skin's deeper layers where it promotes collagen growth and tightens the skin. There are several types of anti-aging lasers available including fractional lasers, both ablative and non ablative lasers. Your provider can help you choose which device that would work best to address your specific needs.
PicoWay ®by Candela Medical: Recently, the PicoWay® was recognized as being a viable treatment option for those that suffer from Melasma (one of the hardest types of hyperpigmentation to treat). This promising technology can significantly decrease hard to treat pigment in as little as one treatment.
BBL ® Hero ™ by Sciton: With high energy output, BBL® Hero ™ by Sciton removes skin imperfections and pigment on large surfaces such as legs, back, and arms comfortably and quickly. Numbing agents are not needed with this treatment since it has special technology to keep the skin comfortable during treatment. In addition to removing unwanted pigmented lesions, the BBL® Hero ™ also addresses acne, skin flushing, and tighter skin.
Moxi ™ by Siton The non ablative treatment known as Moxi™ by Sciton addresses the initial signs of aging and sun damage by delivering non-ablative energy to the skin surface. For little to no recovery time, this treatment can be performed in any season.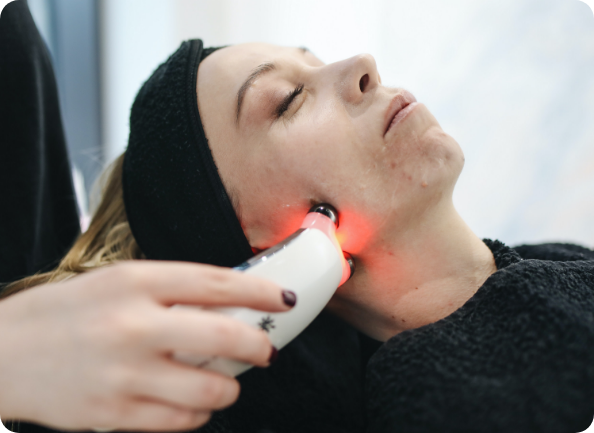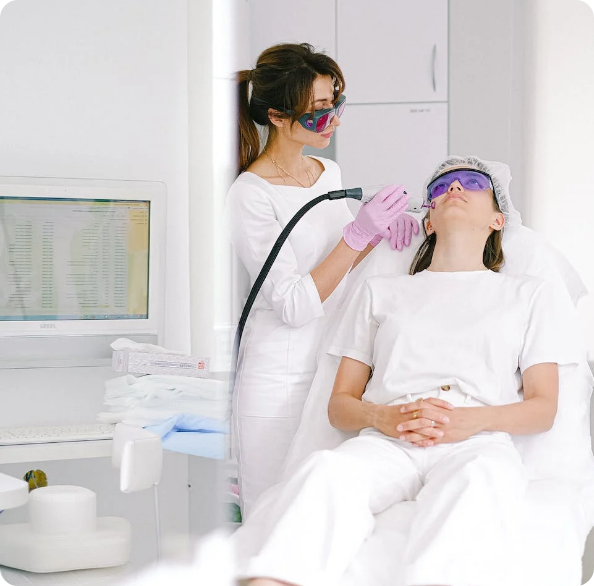 Acne Lasers
While not truly considered a laser, treatments such as IPL (also known as Intense Pulse Light) can be highly beneficial when treating skin conditions such as acne by using specific wavelengths to of light to target the bacteria and excess oil that contributes to acne. The light penetrates the skin and destroys the bacteria, while also reducing inflammation and redness. In addition, the heat generated by the IPL stimulates collagen production which can help the overall appearance of skin. Multiple sessions to achieve desired results may be necessary.
ND Yag treatments can also be highly beneficial in treating acne because it uses specific wavelengths of light to target sebaceous glands of the skin which can cause acne. When the laser light is absorbed, it causes the glands to shrink and can reduce the amount of oil production to help clear up acne.
A more aggressive approach to treat acne would be a full CO2 ablative procedure. Benefits of this treatment can include removal of acne scars, reduction of fine lines and wrinkles, tightening and firming the skin, improving texture, and pore size. This treatment does have a significant recovery time of at least 2 weeks.
Profound Matrix ™ by Candela Medical The highly anticipated launch of the Profound Matrix™ has finally made its official launch. With smart precision, this device is the first of its kind in the radio-frequency micro-needling space to be able to treat the forehead and can treat areas of sagging skin with up to 3 different depths within one pulse. With little recovery time, the Profound Matrix ™ can help reduce acne scars, treat wrinkles, create volume, and providing strength to the structure of skin.
UltraPulse® by Lumenis offers one of the most advanced CO2 devices on the market. With a short pulse duration, this treatment can go deeper under the skin while reducing thermal damage. This one-of-a-kind device also offers SCARR FX ™ mode which allows the provider to treat lesions that may be deeper under the surface. CO2 laser rejuvenation can be quite effective for skin tightening, skin resurfacing, acne scars, and irregular skin discoloration. This type of treatment can have a 2-week recovery time.
Skin Tightening Lasers
Morpheus8 is one of the most sought-after radiofrequency micro needling treatments in the aesthetic industry. This is a perfect minimally invasive solution for those that are looking for full adipose tissue remodeling. The Morpheus8 has different tip applicators to use on different areas of the body creating a customized treatment that is specific to you. This treatment can be used for the face and body, can help with rebuilding collagen, and can be used on darker skin tones.
Pixel® Fractional Skin Treatment by Alma Lasers is a non-surgical option for those that are looking to achieve healthy, younger looking skin. This has received an FDA clearance for using fractional resurfacing to reduce the appearance of large pore size, acne spots, acne scars, and fine lines. In addition, this treatment may provide some skin tightening benefits.
Overview
Neuromodulators and dermal fillers are used to reduce the appearance of wrinkles, fine lines, and other signs of aging. Both are ranked as the top non-surgical services in the United States. While products such as Botox, Dysport, and Xeomin can last 3-4 months (depending on product being used), dermal filler such as Restalyn Kyss (by Galderma), Voluma, and Juvederm by Allergan) can provide immediate results lasting between 6-9 months*.
Questions and Answers
What type of laser will be used for the treatment?
Based off of your consultation with your provider, you will be given options that will work best to address your needs to help you make the best possible decision.